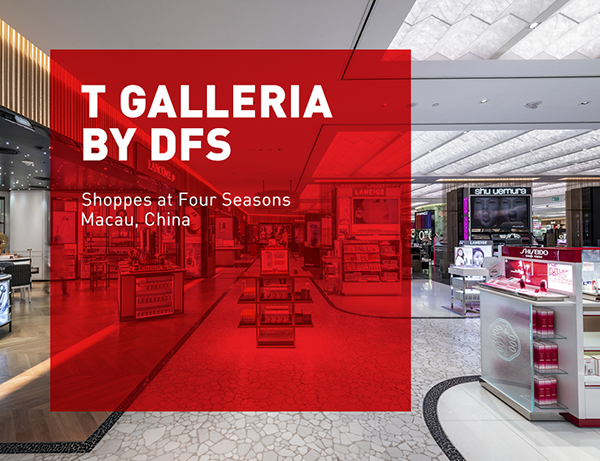 For the renovation of the new T Galleria by DFS (Formerly DFS Galleria) Shoppes at Four Seasons, JHA transformed the 40,000 SF Beauty Hall into a luxurious modern "Chinese Garden."
Each DFS T Galleria should have a visual story that creates a dialog between its space and the local culture. Our vision was to pay tribute to the historical significance of the Chinese garden and establish a dialog between the importance of the natural world and its relationship to both beauty and wellness.
The project was recently featured in:
DEXIGNER       ARCHIDUST      DESIGN:RETAIL
The Beauty Hall seamlessly accommodates 58 individual brands as well as two multi-brand pads comprised of multiple fragrance brands. Elegant architectural elements gracefully integrate technology. Decorative Mosaics and a large installation at the ceiling void by local artists capture the spirit of a natural retreat.
A polished, white broken mosaic pattern was used on the floor to resemble river stone found at the bottom of a reflecting pool. A backlit ceiling with intricate acrylic folds, inspired by Chinese fans and lanterns, organizes the space highlighting the main circulation.
The perimeter of the T Galleria is wrapped by slender brass metal rods reminiscent of bamboo, which continues to the strategically placed digital screens for brands to display messages and new products and in the center of the store to create sleek and elegant brand wall frames.
Thanks those that collaborated to this amazing project including everyone at DFS, especially Kevin Roche and Yu Wang as well as PMDL architects and the great Lighting Design from Joerg Krewinkel at Lichtkompetenz.