Montréal Holt Renfrew renewed as sustainably forward luxury flagship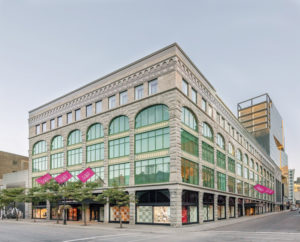 The Holt Renfrew Ogilvy store's renewed presence in Montréal meets modern ecological standards using sustainable materials such as reclaimed wood, light-emitting diode (LED) lighting, recycled materials, and finishes from renewable resources.
The flagship store is the largest Holt Renfrew store in Canada, occupying six floors. The expansion, designed by Jeffrey Hutchinson & Associates and Lemay, consolidated the existing Holt Renfrew store into the Ogilvy building. An extensive process followed to consolidate, upgrade, and expand the Ogilvy building. The new store is directly connected to the Four Seasons hotel complex and private residences.
Transdisciplinary approach
The project required in-depth coordination for the seamless integration of the Four Seasons Hotel and Residences, as both buildings share connected spaces, despite being two separate real estate entities. The flagship comprises hard shops (separate, self-contained mini boutiques), soft shops (which maintain the look of the surrounding store, except for each retailer's wall coverings, furniture, and logos), fixture drops (with the retailer's own cabinetry and walls), and ribbon walls, separating open spaces and showcasing retailers' products.
Preserving heritage elements
It was paramount to the project team the new Holt Renfrew Ogilvy flagship meet modern sustainability standards. While extensive reconstruction and system upgrades were necessary including front revolving doors, octagonal columns, spiral staircase, elevator façades—the stone on the building's exterior was also reworked, in addition to the windows and mouldings being changed. Otherwise, the remainder of the building was kept in its original state.
Holt Renfrew Ogilvy today
The store is now home to over 99 luxury stores. It combines a modern esthetic with key heritage elements, reminiscent of the store when it first opened in 1912.